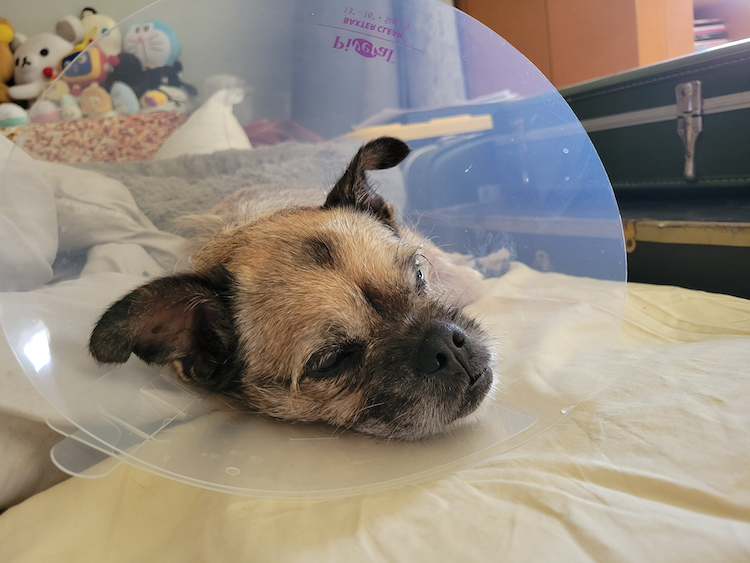 my lil tendoroni had to get emergency surgery, and it was a trial to say the least.
her symptoms escalated from mild to life-threatening extremely rapidly and we are blessed she is now on track to making a full recovery. minus her uterus.
apparently there is more than one reason you ought to spay your bitches. Older female dogs that continue to experience heat cycles can get a cervical infection called Pyometra that fills their tissue lining with pus and will either begin to secrete a discharge if their cervix is open, or fill until it eventually ruptures when the cervix is closed. luckily chola had the former, and was licking herself constantly, which told us something was weird.
we made an appointment for the next day, and what was initially a $50 ultra sound turned into Xrays, blood-work and emergency surgery the next morning. By the grace of god we were able to foot the bill, which was a lot, but overall could have been a lot more.
the place we went to, Southpaw Vet, was nothing short of incredible.
Family-owned, small business
active in LGBT community
support local artists through posters and merch
no longer happy with Banfield -the vet clinic and hospital chain affiliated with Petco, where its impossible to get prompt care, thus shunting patients into expensive emergency, and the atmosphere is on par with taking tickets at a deli counter- once chola was experiencing symptoms, we looked up low-income accommodating veterinarians, and Southpaw Vet was the highest rated on yelp, and its no wonder why. The staff was kind, gentle, and compassionate and their facilities are great; a hall lined with private, cheerfully decorated rooms where you can go in with your pet and talk to the vet. Banfield by comparison takes your dog at the counter, ask little questions and force you to fumble around like a lost member of the Foot Clan in their "lobby" which is the surrounding Petco it is housed in.
Option one: Private attentive care.
Option two: 45 minutes of spiralling anxiety next to the kitty feather teasers display.
She's hating that cone, but looking good. in the end, we got fucking lucky. a series of immediate actions as soon as we saw symptoms worked in concert to save her life, which i say without hyperbole.
TL/DR:
Southpaw Vet in San Diego is top-notch.
spay your dogs and love them everyday.
Jul 15, 2O22